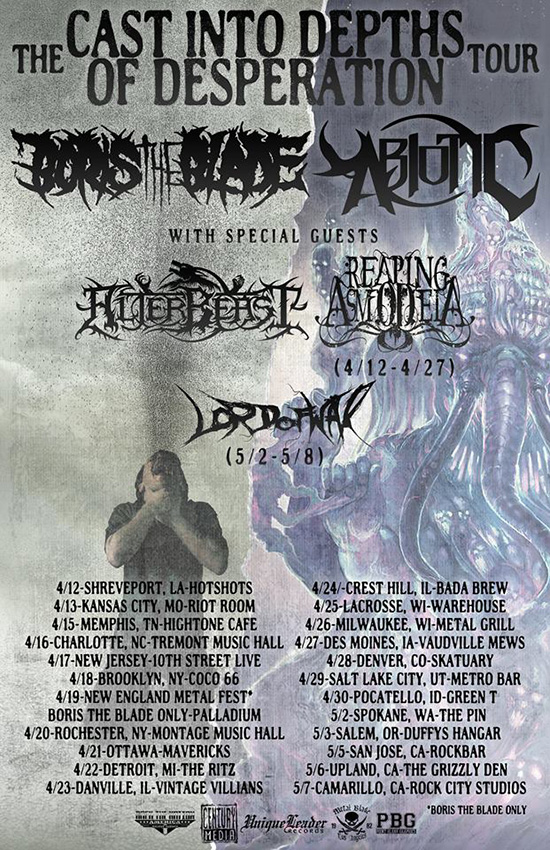 Here is the press statement:
"Sacramento progressive death metal unit, ALTERBEAST, will ravage North America this Spring on a near month-long bout of live incursions supporting Boris The Blade and Abiotic. The takeover will commence on April 12th in Shreveport, Louisiana and squash twenty-two cities, with the final performance to take place on May 7th in Camarillo, California. Comments the band, "Coming this April, you can catch us on tour with the mighty Abiotic co-headlining with Boris The Blade! Along with these amazing dudes, we'll be tearing it up with Reaping Asmodeia and our labelmates, Lord Of War! Do not miss this tour because we do not want to miss you!""
"In celebration of the tour, today Gear Gods is hosting a special "Flesh Bound Text" guitar play-through video, noting, "There's enough shredding to decimate at least 10-20 heads of lettuce (and we're talking romaine here, not that iceberg bullshit), so you may want to keep your hands at a safe distance unless you can move them as fast as these blazing gents.""
ALTERBEAST will be touring in support of their brutalizing Immortal full-length, released last year via Unique Leader Records, the dynamic, meticulously executed and unapologetically scathing creation of auditory savagery that continues to earn the approval from fans and media globally. Decibel calls the record, "…sicker-than-a-resurrected-centurion-werewolf…" HeavyBlogIsHeavy notes, "ALTERBEAST have stirred the pot, plunged a claw in and come out with one of the most exciting death metal debuts in recent history… their skills and creativity have crafted an unholy 'beast' of a record which plays like a long forgotten demon wreaking havoc on us mere mortals," This Is Not A Scene said simply, in a 9/10 score, "ALTERBEAST have nailed it on their debut release," while TechnicalDeathmetal.com gushes in a perfect 10/10 review, "ALTERBEAST's first full-length combines bludgeoning yet dynamic technicality with neo-classicism Christian Muenzner would envy. The final product gives competition to genre heavyweights like Origin and Archspire for best record of 2014." Adds Target Audience, "The album is tight, fast and overwhelming… the metal equivalent to climbing into the ring with Mike Tyson… Given the album's heroically ambitious scope and the confoundingly complicated compositions, this debut has every right to be a mess. But with the production aid of former Black Dahlia Murder bassist Ryan Williams, Rings Of Saturn's Bob Swanson and Cattle Decapitation drummer Zack Ohren the final product is a seamless piece of intense and relentlessly heavy death metal."
Formed in 2011 under the working title Gary Busey Amber Alert (GBAA), ALTERBEAST combines the teachings of The Black Dahlia Murder, Necrophagist and Spawn of Possession with the classic death metal mastery of band's like Dissection and Morbid Angel into an irately cathartic sound expulsion.